NI politicians in US for St Patrick's Day talks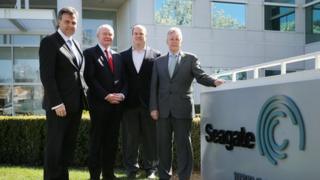 The first and deputy first ministers have arrived in the USA for a round of engagements with the American vice-president.
Peter Robinson, Martin McGuinness, Secretary of State Theresa Villiers and Irish PM Enda Kenny will also take part in events to mark St Patrick's Day.
Vice-President Joe Biden will meet Mr Robinson and Mr McGuinness at the White House on Thursday.
The White House said they would discuss progress towards peace and prosperity.
It has been customary for the president to drop in on these talks.
It is not clear yet if he will do so, amid some discontent with the lack of progress on flags parading and the past.
The meeting comes as former talks chairman Dr Richard Haass warned that Northern Ireland was at risk of returning to violence over its failure to deal with the legacy of the past and ongoing divisions over issues such as flags and parading.
Although President Barack Obama is embroiled with international crisis in Kiev, it will be regarded by some as a snub if he does not drop in during the vice-president's talks.
Reception
President Obama has already confirmed he will meet Taoiseach (Irish prime minister) Enda Kenny in the Oval office on Friday, after the vice-president has hosted him for breakfast at the Naval Observatory.
The president and vice-president are also expected to attend the Speaker's lunch on Friday ahead of the annual White House St Patrick's Day reception.
The president will formally welcome Mr Kenny to the White House for the reception.
Mr Robinson and Mr McGuinness have been invited along with other political leaders and community representatives.
The White House said in a statement: "The United States and Ireland share a strong bilateral relationship, deep cultural, historic, and people-to-people bonds, and a shared commitment to advancing peace, security, and prosperity in the world."
The shamrock ceremony is decades old and was started by then US President Harry Truman.
Vice-President Biden is to be presented with a peace award at the American Ireland Fund gala dinner on Thursday evening.