PSNI Taser use justified says Ombudsman Michael Maguire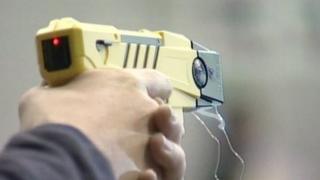 The police ombudsman has found that police were justified in using Tasers during five incidents involving people armed with knives.
Four involved people threatening to harm or kill themselves, the other involved a person who was using a knife to threaten his mother and sister.
In each case, the use of Taser allowed police to disarm those involved.
The incidents happened in east Belfast, Newtownabbey, Lisburn, Dungannon and Belleek, County Fermanagh.
The ombudsman, Dr Michael Maguire found that the officers who used the Tasers had been appropriately trained and authorised to do so, and when practicable had given warnings before using the weapon.
"I am satisfied that the police were presented with situations in which there was a clear risk of injury to members of the public and police officers, and that the use of Taser was appropriate in helping to quickly remove such threats," he said.
The PSNI also confirmed that it had since taken measures to synchronise the clocks built into Tasers, after ombudsman enquiries found a discrepancy of 14 seconds in the times recorded by the two weapons used virtually simultaneously during the east Belfast incident in April 2010.
Dr Maguire noted that "had the circumstances of these discharges been more contentious, the discrepancies in timings between the two discharges could have raised significant issues."