Newry 20:20: Residents lead new tourism campaign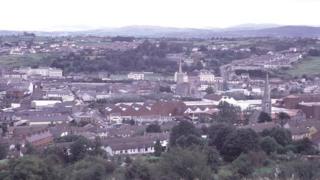 A new grassroots campaign to attract more visitors to Newry, County Down, is being led by a group of residents and business owners in the city.
The Newry 20:20 campaign has been set up in a bid to develop the city as a tourist destination and to improve the quality of life of its residents.
It is holding a series of meetings to gather ideas from local people.
The group has organised a three-day "international festival" that is due to take place from 12 to 14 September.
Other suggestions include the development of a new "cultural quarter" to improve Newry's entertainment scene, a new park or concert venue at disused land in the city centre and improved public access to the city's waterways.
The campaign began as a one-man mission by Newry photographer Columba O'Hare, who wrote a blog on his website, outlining a personal vision for the the future of his native city over the next six years - up until 2020.
"My idea in life is that, if you want something done, you can't go and depend on anybody else," Mr O'Hare said.
"Get up and see how you can help towards doing it, as a opposed to blaming somebody else for facilities not being there."
He said he has had an "incredible" response to the blog he wrote in November and he has now been joined in his campaign by local traders, including restaurant owner Neil Bradley.
'Reality check'
Mr O'Hare said that for a long time, his city has been marketed as "a shopping destination, nothing more, nothing less" and he believes this is not ambitious enough to realise its potential as a tourist destination.
He added that Newry was "perfectly placed geographically" for visitors to stay during trips to nearby scenic attractions.
It is sited on the edge of Carlingford Lough, between the Mourne Mountains and Ring of Gullion, which have both been designated as Areas of Outstanding Natural Beauty.
However, he said the city does not have "the infrastructure in place just yet to keep them interested here for a few days in our own right".
Too often, he said, tourism and marketing resources have been concentrated on outlying parts of the Newry and Mourne area, while the city centre itself was neglected.
"To attract visitors to Newry we have to look and then ask ourselves do we have something to offer them that other places don't, and unfortunately at this very moment in time we don't have a lot," he wrote.
"This is certainly not meant to be a negative statement but rather a reality check on the base we need to build from."
He cited nearby Carlingford, County Louth, which had been transformed from a sleepy village to a top tourist attraction.
'Happening restaurants'
The photographer's own ideas include the redevelopment of Newry Canal, with greater access for boat owners; and the staging of concerts and large outdoor events at the nearby Albert Basin.
The basin is a 15 acre stretch of disused city centre land that lies between the canal and the Clanrye River.
He also wants greater pedestrianisation of the city's main street, Hill Street, and the development of a new cultural quarter around Sugar Island, with bars, theatre performances and "happening restaurants".
Other suggestions included a maritime museum, a new public park, historical tours and the reopening of the Bessbrook to Newry Tramline.
The three-day festival has been named Iúr Cinn Fleadh - a play on the Irish name for the city, Iúr Cinn Trá.
The organisers have been speaking to business owners and Newry and Mourne District Council to encourage them to support the new event.
Mr O'Hare said the plans were at a very early stage but he hoped it will feature traditional musicians, trad-rock bands, workshops and other festivities.
'Pre-ceasefire monstrosities'
The campaign is also calling on business owners in Hill Street to reduce their use of security shutters to help make the city's main street a better, brighter place at night.
Mr O'Hare referred to the metal grills as "pre-ceasefire monstrosities" and said the council could provide incentives to businesses to make their shops look more attractive at night.
More than 30 people attended the first meeting of the Newry 2020 campaign at Sugar Island in February and a second meeting was held on Wednesday evening.
The photographer said that while the numbers so far were small, those who attended were influential "movers and shakers" who were keen to put their ideas into practice.
The group is planning to continue their campaign with monthly meetings.
Newry, which has a population of about 27,500 people, was granted city status in March 2002 to mark the Queen's Golden Jubilee.