Saracens remove spoof of Ulster Rugby video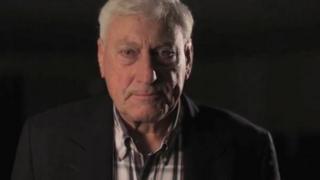 A spoof version of an Ulster Rugby video featuring former Irish international Willie John McBride has been removed from the internet.
On Sunday, Ulster released a video featuring the 63-times capped McBride, with footage of the Ulster Orchestra performing Stand Up For The Ulster Men.
London club Saracens responded by overdubbing the video, with the lyrics changed to Stand Up For The Saracens. McBride's voice was also replaced.
Saracens have now removed the video.
The club has not yet commented on why it was taken down.
However, it had attracted a backlash on social media, with some fans on Twitter claiming it mocked Ulster.
The clubs meet in the Heineken Cup quarter-finals at Ravenhill on 5 April.
Robin Morgan, director of the original Ulster video, said: "The Saracens version doesn't have much taste.
"When your own fans start abandoning you, as has happened with Saracens, then you have to listen.
"It's a bit of a shame because all it has done is boost our campaign."
Ulster's video, produced by Belfast-based Little Giant Films, is part of their #showURsupport social media campaign and has attracted just under 25,000 views.
In the video Ulster and British & Irish Lions legend McBride says: "When you're playing Ulster at Ravenhill, you're not only playing the 15 players on the field - you're playing the whole province of Ulster."
On Monday night, Saracens reposted the same video with Mr McBride's line replaced with an impersonation.
It had attracted just under 2,500 views before being removed.