Royal Victoria Hospital: Patient death investigated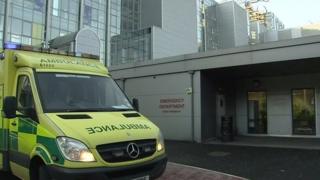 The Belfast Health Trust is investigating the circumstances of the death of a patient while waiting on a trolley in Royal Victoria Hospital.
The elderly woman was admitted to A&E last month and but had to wait four hours before a consultant examined her.
While she was extremely ill, there is concern the delay may have been a contributing factor in her death.
In February, Belfast Health Trust said delays in treating RVH five patients may have contributed to their deaths.
The five other cases are currently being examined.
'Died alone'
The elderly woman had been brought to the hospital's emergency department on a busy evening last month.
She lay on a trolley for four hours before she was seen by a consultant.
She later died, about seven hours after she had arrived in the department.
There is also concern that the woman died alone, because her family was not contacted.
The BBC understands that a senior medic within the RVH emergency department is so concerned about the standard of care and working conditions for staff that he has sought legal advice.
There have been a series of problems at the hospital within recent months.
Pressure
In January, a "major incident" was declared by staff due to a large backlog of patients in the A&E department.
Additional staff were called in and extra beds were opened to relieve pressure on the unit.
Details of the latest incident have been revealed on the day that the trust's chief executive announced his resignation.
Colm Donaghy is leaving the post he has held for four years to become chief executive of Sussex Partnership NHS Foundation Trust.