Health Minister Edwin Poots rejects MRI scanner remarks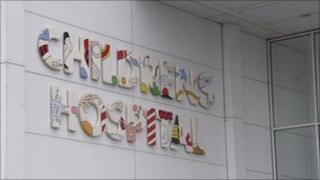 Stormont Health Minister Edwin Poots has dismissed as "nonsense" comments about the installation of an MRI scanner at the Royal Belfast Hospital for Sick Children.
He was responding to Sinn Féin health committee chair Maeve McLaughlin, who sought assurances it "will not be privatisation of our health services and will not effectively become care on the cheap".
At least two MRI scanners are being hired from the private sector, the BBC's Nolan Show revealed on Tuesday.
A new scanner will be installed at the hospital following a three-year charity appeal that raised £2m, but it will not be in place until next year.
The minister rejected suggestions of any delay in fitting the scanner.
"We're not installing a 42-inch TV screen," he told the assembly.
The minister said the process would involve piling, asbestos removal, and ensuring the safety of other parts of the building due to the presence of radioactivity.
Mr Poots said criticism of the use of the private sector was "absolutely bizarre, because we are ensuring that people continue to get MRI scans through that whilst we are providing an MRI scanner for the children's hospital, which I believe is critically important".
Meanwhile, Sinn Féin's Bronwyn McGahan asked how many serious adverse incidents (SAIs) resulting in deaths that might have been connected to waiting times had occurred in each health trust over the previous five years.
The minister replied that in the years 2011 to 2013, there had been fewer than five serious adverse incidents where delays in emergency departments may have been a contributory factor.
He said he was committed to openness and transparency about the issue.
Mr Poots said SAIs "cover a wide range of situations and not just death" and that the reporting of the incident did not automatically mean that there "was a problem with the quality of care provided".