Almac opens new offices in Japan and Singapore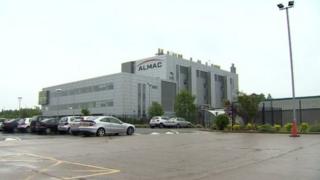 A Northern Ireland pharmaceutical firm has opened two new offices in Japan and Singapore in a bid to meet "increasing demand" for its services in Asia.
Almac, headquartered in Craigavon, County Armagh, specialises in drug testing and development, and has managed thousands of clinical trials.
It employs more than 3,300 staff.
Chief executive, Alan Armstrong, said the new hubs were "a significant step forward for Almac in expanding our business in the Asia Pacific region".
The pharmaceutical development company is one of Northern Ireland's most successful exporters, and about 95% of its business comes from customers outside the UK.
Expansion
In a statement, Almac said that staff from the firm's Craigavon facility will be based at the new Asian hubs "to apply insights gained from Almac's experience managing more than 10,000 trials around the world".
Mr Armstrong said: "With 15% of all clinical trials conducted in Asia, it's imperative that we provide localised service and support to the sponsors of these trials."
The firm has also announced that it will open a new secondary packaging facility in Singapore by the end of this year.
It also has US business premises in Pennsylvania, North Carolina and California.
World-leading
However, it retains its global headquarters at Seagoe Industrial Estate in Craigavon.
The Almac Group was founded in 2002 by the prominent businessman and philanthropist, Sir Allen McClay.
He trained as a pharmacist and established his first business, Galen, in 1968.
Galen became a world-leading pharmaceutical and biotech company and made Sir Allen one of Northern Ireland's richest men.
The multi-millionaire died in 2010 at the age of 77.