PwC: Northern Ireland's poorest '£1,000 a year worse off'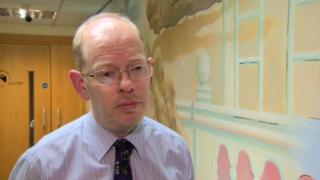 Northern Ireland's poorest households are £1,000 a year worse off than 10 years ago, according to new research.
A report by PricewaterhouseCoopers (PwC) states they have "suffered most" from a decade of soaring energy and food prices.
It said the rising costs were combined with a fall in the real value of wages.
Esmond Birnie from PwC said there is evidence Northern Ireland has been "disproportionally impacted by high energy prices".
'Slower rate'
More people are in fuel poverty in Northern Ireland than other parts of the UK.
According to the report, the lowest earning 10% of the population had experienced consumer price inflation of 40% in the decade up to 2013.
The report - UK Economic Outlook - also says that, in real terms, average household incomes in the UK are 7% below the peak levels of 2007.
It forecasts they will not fully recover until 2019.
However, the report's authors believe the UK economy is gathering "real momentum", although at a slower rate in Northern Ireland compared to other regions.
Negative equity
Mr Birnie, who is PwC's chief economist in Northern Ireland, said many households needed to budget for rises in interest rates, which he predicted would happen next year.
"With Northern Ireland having the highest level of negative equity amongst UK regions, households need to bear in mind interest rate rises in any decisions on mortgages or loans."