Robert Hamill murder: Charges linked to case to be reinstated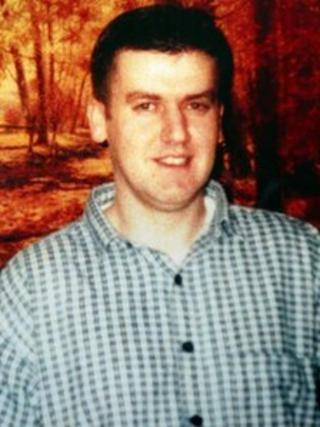 Charges linked to the Robert Hamill murder investigation will be reinstated against three people, including an ex-policeman, following a court ruling.
Mr Hamill was killed by loyalists in Portadown, County Armagh, 17 years ago.
The High Court has quashed a decision to halt criminal proceedings against the trio in connection with the case.
Conspiracy to pervert the course of justice charges will now proceed against the three people, who include a former RUC officer and his wife.
The outcome follows a legal challenge by the Public Prosecution Service (PPS).
Mr Hamill, a 25-year-old Catholic, was attacked and beaten by a loyalist mob in Portadown in April 1997.
He never regained consciousness and died in hospital 12 days later.
Royal Ulster Constabulary (RUC) officers who were in the area at the time have been accused of failing to intervene in the assault.
One of the RUC officers who was in an armoured police vehicle at the scene was Robert Cecil Atkinson.
The 59-year-old and his wife Eleanor Atkinson, with an address at Brownstown Road, Portadown, had both been accused of conspiring to pervert the course of justice in connection with the investigation into the killing.
Similar allegations were made against another man, Kenneth Hanvey, 62, of Derryanvil Road in the town.
All three defendants denied the claims against them.
At a hearing in July last year, a district judge halted their cases over an alleged abuse of process.
He ruled that the evidence from a woman who was the central witness was so unreliable that a jury could not convict on it.
His verdict led to the PPS seeking a judicial review.
At the High Court on Monday, a barrister for the PPS argued that there was no abuse of process.
Following a brief hearing, a panel of three High Court judges confirmed that the decision to stay the prosecution was being quashed.
The case will now be remitted back for hearing in front of a different district judge.