New generation of Northern Ireland poets blooms at Sunflower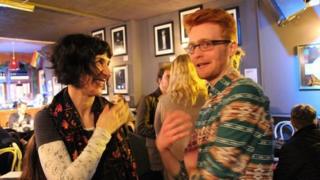 A new generation of poets is blooming in a Belfast bar called the Sunflower.
The group of young poets that meets in the Union Street pub to air and share calls itself the Lifeboat.
The lifeline that is poetry is just as vital to established voices like that of poet Sinéad Morrissey from Northern Ireland who has made her name internationally.
She won the TS Eliot prize - becoming the fifth poet from Northern Ireland to receive the award.
Mystery
In an interview for BBC Northern Ireland's The Arts Show, she said that writing poetry was "easily the most important thing" in her life.
Poetry is equally vital to Darren Anderson from Londonderry.
"There has been a tendency for poetry to be regarded like gardening or therapy. But poetry offers a view of life that has mystery," he told The Arts Show.
"Poetry offers a view of life that has complexity and ambiguity and contradictions and mystery... and all the things puritans and politicians are quite afraid of.
"Poetry and poets in general, offer something else, they offer a way of seeing outside the black and white conceptions of the world."
It is a love of poetry that propelled Darren to revive the magazine, the old Honest Ulsterman, that gave a voice to another generation of Irish poets who became known across the globe.
Seamus Heaney, Michael Longley and Ciaran Carson feature on the pages of the old volumes dating back to the 1960s.
Challenge
"They rank up there with the greatest," said Darren, who has created a website that reflects the flavour of the Honest Ulsterman.
"The original copies of the Honest Ulsterman are very pulpy - it as if they were passed along at street corners. The copies also include old ads."
On his website, he wants to recreate the feel of the magazine and reflect the gems of what it offered.
Featuring readings from another TS Eliot prize-winner, Michael Longley and well-known poet Leontia Flynn, the Arts Show sets out to challenge preconceptions about poetry and celebrate it.
In her latest programme, presenter Marie-Louise Muir shines a light on poetry in modern-day Northern Ireland and discovers a new generation of talented and honest Ulstermen and women, ready to take up the torch.
"While Heaney's benevolent buoyant encouragement is at the heart of this new scene, so is a belief in a DIY approach towards a new generation of poetry from here," said Marie-Louise.
"The night we filmed in the Sunflower bar, I had to shout to have my links heard over the buzz and chatter.
"If you think poetry is boring and not for you, you will come away with a very different impression of live poetry. There was even a poetry encore. You don't get that every day.
"Northern Ireland may have lost its greatest ambassador in the poetry world, but Seamus himself would smile that warm, eyes crinkled smile and beam proudly."
The Arts Show is on BBC Two Northern Ireland on Wednesday 12 March at 22:00 GMT