Two arrested over racist pipe bomb attacks in Londonderry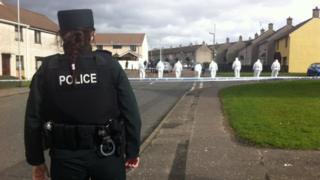 Two men, aged 40 and 32, have been arrested in connection with two racist pipe bomb attacks in Londonderry.
The devices, which were packed with nails, were used to target two houses occupied by Romanian families in the Waterside area on Saturday.
Nine people, including at least one child, escaped injury when the devices exploded outside their homes in Lapwing Way and Lincoln Court.
Police believe the attack are linked and are treating them as hate crimes.
On Saturday, police said four adults and a child were in a house at Lapwing Way when a device exploded at 01:30 GMT.
At about the same time, a second pipe bomb exploded at Lincoln Court. Four adults who were inside were not hurt.
Local DUP councillor Drew Thompson said a letterbox had been blown off the door of the property in Lincoln Court.
"One family said to me they heard a bang at about 01:30 GMT and they ran out, not thinking.
"They couldn't see anything, but it was only later on that they realised that there had been a partial explosion," he told BBC Radio Ulster.
The house at Lapwing Way was not damaged.
Mr Thompson said both families were very distressed by the attacks.
"They don't want to talk too much," he said. "There has been a heightening of tension in the area. Residents are concerned that this should happen in their area."
He urged anyone with information about the attacks to contact the police.
Pat Ramsey, the SDLP MLA for Foyle, said: "It appears that this appalling attack on homes in Derry was racially motivated, this is a very disturbing development.
"The devices used were viable and this disgraceful attack must be condemned by all in our community."