On the Runs: Committee to question top civil servant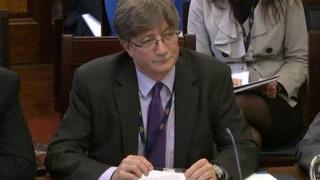 A senior civil servant is give evidence to a Stormont committee investigating the controversial On the Runs scheme.
Nick Perry was aware of the scheme, that saw letters sent to nearly 200 republicans assuring them they were not wanted by the police, while he worked at the Northern Ireland Office (NIO).
Mr Perry is now the permanent secretary at the Department of Justice.
The justice committee is expected to ask him why he did not tell Justice Minister David Ford about the scheme.
The scheme was administered by the NIO.
Last week, the BBC revealed that Mr Perry was written to about the scheme by Jonathan Powell, who was prime minister Tony Blair's chief of staff, in June 2000.
Inquiry
At that stage Mr Perry was a senior official with the NIO.
Mr Ford has defended Mr Perry, saying strict civil service rules meant he could not tell him about his activities while working for the NIO before policing and justice powers were devolved to Stormont.
On Thursday, the justice committee voted to hold its own investigation into the scheme.
As part of that inquiry, it has asked for a copy of the civil service code of conduct to examine whether Mr Perry should have informed Mr Ford about the scheme.
Sources say Nick Perry was aware of the scheme, but was not involved in its administration.
The justice committee also plans to question Mr Ford, the director of public prosecutions Barra McGrory, and the secretary of state.
Committee chairman Paul Givan said it hopes the hearings will begin as soon as possible.