Roots of Irish history exposed by winter storms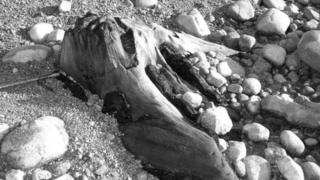 Part of a drowned forest that once spanned a vast swathe of the west coast of Ireland has been exposed by recent storms.
The forest dates back thousands of years and was lost to the sea as water levels rose over the centuries.
The Irish Times reported that strong winds and big waves had moved sand, rocks, and other debris from the north Galway coast to unearth what is left.
"We always knew it was there but it took the storms to expose it" said geologist, Prof Mike Williams.
"Folktales, passed down through thousands of generations, spoke of disappearing land and islands. It's extraordinary to see".
The sight, however, will be short-lived.
"It will all disappear again as the sand is pushed back over it by the sea during the summer months," added Prof Williams.
The storms that resurrected some of the island's wooded history also killed large parts of living forests.
Up to 7.5 million trees were felled by one of the strongest storms to batter Ireland during the winter season.
Storm Darwin, as it became known, struck on 12 February knocking more than a quarter of a million homes and businesses into darkness as the electricity network dealt with thousands of faults.
Gusts of wind reached almost 100mph (160km/h) at Shannon airport in County Clare, while gusts of 93mph (150km/h) were recorded at Waterford airport.
The south and west of the country was worst affected with police declaring a major emergency in County Kilkenny.
Following the storm the Windblow taskforce was set up by the Republic of Ireland's Department of Agriculture to assess the damage caused by the storm.
Early indications from the taskforce show that between 5,000 and 7,000 hectares of forest have been blown down, mainly in Munster.