Wife appeals for organ donors to help save husband's life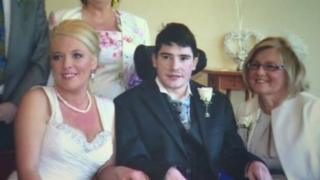 A newlywed whose husband urgently needs a double lung transplant has urged more people to register as organ donors.
Catriona and Ciaran Murphy brought their wedding forward to last week after doctors told them Ciaran's need for a transplant was now critical.
The Belfast bride rarely leaves her husband's bedside.
She is now appealing for more people to consider the kind of donation that could help save her husband's life.
Catriona said more donors in Northern Ireland need to come forward.
"It's not a nice conversation to have, but if there were more organs out there then maybe families wouldn't be in the position that we are in. We've had to discuss with our daughter that her daddy might die," she said.
The family are urging people to sign the organ donor register.
They said families need to have the difficult conversation about what should happen to their organs when they die.
'Limbo'
Ciaran Murphy, who is 27, knows time is running out.
"This is the reality of waiting for a transplant. It's not nice, it's not pleasant and it leaves you in a state of limbo, and if more organs were available people would not be in my position," he said.
The couple had planned to marry next year. However Ciaran, who had a transplant four years ago, began rejecting the organ last August.
"The transplant the first time round for me was like a miracle, it really changed my life completely. I'm hoping it's going to happen again," he said.
The couple, who met in 2007, praised staff at the Belfast Health Trust who decorated a side ward in Belfast City Hospital for the wedding ceremony.
According to Catriona it was important they married as soon as possible.
"We could have been anywhere to be honest, it was just really about us and about the commitment that we were making to each other," she said.
"The staff within the trust were absolutely fantastic, cleared out rooms for us, they had sandwiches and stuff for us afterwards, and the nurses in the department were all on standby for Ciaran. It was wonderful."
A recent publicity campaign by the Public Health Agency has had 4,792 visits.
Contentious
Latest figures from NHS Blood and Transplant (NHSBT) show that there have been 3,450 new Northern Ireland residents on the Organ Donor Register (ODR) since 11 February.
Organ donation is a contentious issue at the moment with two political bills proposed.
One offers an opt-out system, while the other maintains the current opt-in organ register.
Ciaran said he is fully aware of the political debate, but is urging politicians to remember what is at stake.
"Like most things in Northern Ireland it's become political, but I think when each person stops and considers what it is we're discussing here, it's people's lives and a chance for someone to have a new life - that's what is important," he said.
Reality
There have been difficult conversations, including telling their daughter that her father might die.
For Ciaran's sister Claire Murphy, the reality is stark.
"The reality is Ciaran is going to die. This is not Holby City or Emmerdale - this is our life this is Belfast. I'm urging people to have the conversation. No-one likes to talk about death, but this might come to your front door," she said.
Ciaran was diagnosed with cystic fibrosis when he was one-week-old.
According to the Belfast Health Trust, as many as one-in-three people with cystic fibrosis die while on the waiting list for a lung transplant.
The current focus of those involved in the care of individuals with cystic fibrosis is to increase the number of lungs available.