North Queen Street PSNI station to be developed for housing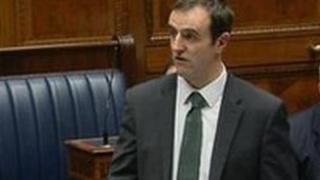 Planning approval has been granted to develop a former PSNI station in north Belfast for housing.
The site on North Queen Street is between the Westlink and Clifton House.
Environment Minister Mark Durkan approved the plans by Apex Housing to demolish the vacant PSNI buildings and security fence and redevelop the site for 26 two-storey houses, car parking and site works.
He said the development would provide a "boost" for the area.
"It will deliver 26 homes in an area of high housing need and bring construction jobs in the short term," he said.
"The proposal will revitalise and enhance an historic area of the city, meaning that people can both live in and enjoy this attractive area.
"These houses will be in the vicinity of Clifton House, one of Belfast's most historic listed buildings which is surrounded by an historic park, garden and demesne.
"The application includes a tree-lined boulevard to the front of the site adjacent to North Queen Street which will create an attractive streetscape when approaching Clifton House. This will protect yet enhance this historically significant area.
"My vision is to build a better environment and a stronger economy. This decision will help do this."
Department of the Environment (DoE) Planning consulted with Belfast City Council at its meeting on 6 March 2014 and no objections were raised to the proposal.