Continued economic recovery for NI private sector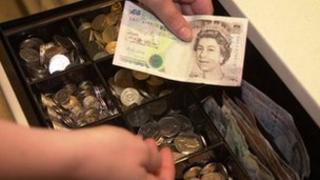 Northern Ireland's private sector experienced continued economic recovery last month, according to the latest survey of businesses.
Data produced for the Ulster Bank "signalled a further sharp increase in business activity".
The monthly research tracks things like output, new orders and employment.
Although the pace of the recovery eased compared to a record-order January, the bank said "the rates of growth still remain very strong".
Its chief economist Richard Ramsey said: "Firms have now reported an increase in business activity, employment and export orders for eight consecutive months."
He added that the "one negative feature" was that companies lowered their output prices in February for the first time in seven months.
"This was solely due to price reductions in the service sector," he said.
According to the survey, the construction and retail sectors both had a good month.