Plane diverted to Belfast International after woman goes into labour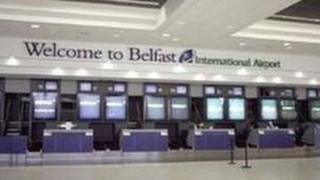 Belfast International Airport had an unusual arrival this week after a flight had to be diverted when a passenger went into labour.
Medical crews were rushed to the airport to deal with the emergency when the plane landed in County Antrim at about 16:15 GMT on Thursday.
The Air France flight was making its way from Paris to Detroit.
The aircraft was about 250 miles off the coast of Ireland when the alarm was raised.
The plane's captain took the decision to launch emergency procedures over the Atlantic and contacted staff at Aldergrove.
With the 300-passenger aircraft approximately 45 minutes from Belfast, Belfast International airport said emergency medical crews were immediately put on stand-by.
'Spectacle'
Deborah Harris, public relations manager at the airport, told BBC Radio Ulster's Talkback programme that she could not remember anything like this ever happening before.
"I'm here ten years and no-one can remember this happening before. We've had births actually in the airport before, but this was a new one for us," she said.
"It was a bit of a spectacle for anyone that was there. We took a call from an aircraft flying overhead at around 15:30 GMT yesterday afternoon. The captain told us that the lady on board was actually pregnant and in labour."
Ms Harris said emergency medical procedures were immediately put in place, and the plane landed on the runway about 45 minutes later.
"It was a big aircraft, an Airbus A340, with around 300 seats, so a plane not seen too often in Belfast. It was great that we had the capability on the runway to take it," she said.
"It was quite an eye-opener when it did arrive, and hopefully there will be a happy ending for the family."
The pregnant woman, believed to be French, was taken to Antrim Area Hospital, where she later gave birth to the baby.
Restrictions
However, the hospital were unable to confirm if the child was male or female. The flight left the airport again shortly before 18:00 GMT on Thursday.
Although most airlines will not allow women to fly after 36 weeks of pregnancy, or 32 weeks if pregnant with twins, Air France does not have similar rules.
The airline does not restrict pregnant women from flying nor require a medical note permitting air travel.
However, it does state on the company's website that women should avoid flying in the final month of pregnancy.
It is not yet known how many weeks pregnant the woman was when she went into labour on the aircraft.