Letter bombs in Londonderry and Lisburn 'addressed to NI prison'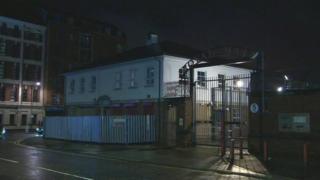 Two letter bombs have been found at separate postal offices in Northern Ireland.
They were discovered at Royal Mail sorting offices in counties Londonderry and Antrim within the last 24 hours.
It is understood that both packages were addressed to Maghaberry Prison, the largest jail in Northern Ireland.
The first was intercepted at Derry's main sorting office in Great James Street on Thursday. The second was found at Linenhall Street, Lisburn.
The attacks have been condemned by Northern Ireland's first and deputy first ministers.
In a joint statement, Peter Robinson and Martin McGuinness said the people who sent the packages have no respect for postal workers, the wider community or the future.
Both devices were examined by Army bomb disposal officers, who declared them to be viable.
They have been removed for further examination and the streets that were closed during the separate bomb alerts have all reopened.
The letter bomb found in Derry was in a white A4 envelope with an address in a grey stencil.
Police have warned the public to be vigilant and to contact them if they receive a similar package.
Northern Ireland's Justice Minister David Ford said the letter bomb at the Derry sorting office was an attempt to kill and he condemned those responsible.
"Yet again we have a cold-blooded attempt to cause death or serious injury," he said.
"Those behind this device do not care who they hurt or injure and have nothing positive to offer."
Secretary of State Theresa Villiers said: "Once again these individuals have demonstrated a complete disregard for our postal workers and the local community."
Last month, a number of letter bombs were sent to Army recruiting offices in England and at the time, a Downing Street spokesperson said it bore "the hallmarks of Northern Ireland-related terrorism".
Four devices were also intercepted in Northern Ireland in October.
Two were addressed to police officers, one to Ms Villiers, and the fourth to the offices of the Public Prosecution Service in Derry.
Barbara Roulston, Royal Mail's head of external relations Northern Ireland, said: "The sending of explosive devices via the postal system is of great concern to Royal Mail.
"We are doing everything we possibly can to protect our people as they go about their daily jobs serving communities across the United Kingdom.
"Royal Mail has rigorous procedures in place to deal with suspect devices and trained personnel who manage these situations.
"Our procedures are under constant scrutiny and review and our employees are regularly briefed on these types of issues."