Richard Haass to brief Washington committee on NI peace process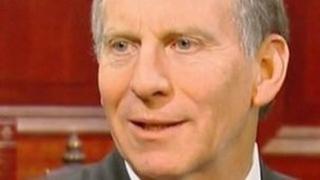 The former NI talks chairman Richard Haass is to give evidence in Washington to a congressional subcommittee on foreign relations.
The House subcommittee is hearing evidence on the NI peace process and dealing with the past.
Dr Richard Haass left Belfast on New Year's Eve, after six months of negotiations with the five main parties broke up without agreement.
The talks focused on dealing with the past, parades and flags.
Geraldine Finucane, the widow of murdered solicitor Pat Finucane and victim Eugene Devlin will also give evidence at the hearing on Capitol Hill next Tuesday.
Former Northern Ireland Police Ombudsman Baroness Nuala O'Loan will brief the subcommittee via video conferencing.
Dr Haass is also expected to attend a White House reception for St Patrick's Day next Friday.
First Minister Peter Robinson and Deputy First Minister Martin McGuinness will also be in Washington next week for a series of meetings and receptions.