Danny Kinahan: Second On The Run letter 'sent by mistake'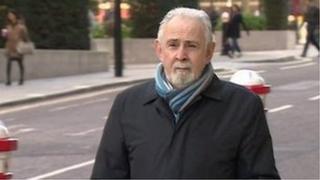 An Ulster Unionist MLA has claimed there could be another On the Run letter that has been sent out by mistake.
His comments come after the trial of John Downey collapsed in London because he was mistakenly issued with a letter.
Ulster Unionist MLA Danny Kinahan said he had received information that there is another letter in circulation relating to a case in Northern Ireland.
He was speaking to the BBC programme 'The View '.
"It has come to our notice that there may well have been at least one letter, a comfort letter if we call them that, that has been issued wrongly in Northern Ireland," he said.
"It may be that same letter has been used to stop prosecution, or in defence of someone in a criminal court in Northern Ireland, and we want to get to the bottom of it. We want to find out has this gone on."
The UUP has said Justice Minister David Ford needs to explain what is happening and the party has tabled a series of questions at Stormont.
However, David Ford said the scheme is nothing to do with his department.
Asked by the BBC if there were any people in Northern Ireland currently relying on a letter of assurance he said: "You will have to ask that question of the Northern Ireland Office. I don't know. I have no desire to know, because I want nothing to do with this scheme."
He added: "I want to know nothing about this shabby scheme except that it has ended."
A spokeswoman for the Director of Public Prosecutions said it would be inappropriate to comment because the On the Run scheme is now the subject of a inquiry announced by Prime Minister David Cameron last week.
A spokesperson for the Northern Ireland Office said it was now important that the inquiry "ran its course".
Donegal man John Downey denied killing four soldiers in the 1982 Hyde Park IRA bomb attack.
The case against him collapsed because government officials mistakenly told him he was no longer a wanted man, when in fact he was still wanted by the Met Police over the bombing.
The row over the letters to republican fugitives has divided victims and created tensions in victims groups.
Last week Errol McDowell resigned from the Victims Forum over the issue .
'Dirty peace'
His colleague Geoff Hamilton, whose father in law was killed by the IRA, left the Victims Forum last month.
He told the BBC: "I think it's very ironic that we've had talk of a dirty war, and we've had talks of dirty deals, and we've talks of dirty peace."
The letters row has also thrown a spotlight on how those who were responsible for deaths during the Troubles should be treated.
Jude Whyte's mother was killed in 1984 by a loyalist bomb, thought to have been planted by the UVF.
Speaking to The View, he said relatives needed to accept that prosecutions were not going to take place.
"What the victims in Ballymurphy, on the New Lodge Road, in the Bogside, in La Mon, in Ballygawley - what actually happened there is in the past, and I do not believe that there will be prosecutions for a whole range of reasons," he said.
"Mainly pragmatic legalistic reasons, and that does not take away from the pain that those people suffered and are currently suffering. And I in no way, and I can't say it enough, want to trivialise that pain or to minimise that pain. I am being totally practical."
He added: "I do not believe it will happen, and I believe that it's time that society matured enough to embrace that word sorry, and to go one step further and to clear the decks completely. For once, for all, forever."
However, other relatives take a very different approach.
Day in court
Alice Harper's father, Danny Teggart, was one of 11 people shot and killed by the Army in Ballymurphy in 1971. She thinks those responsible must be pursued.
"I want my day in court. I want to look the person that murdered my father in the eye and ask them why an innocent man, why he murdered him. That is what I want," she told The View.
"But we know in our hearts, the same with Bloody Sunday, that the soldiers will never do an hour."
Others are concerned that the debate over the On the run letters has been misreported.
Professor Kieran McEvoy from Queen's University said the letters do not amount to amnesties .
"I think for victims in particular, reading shock headlines about amnesties for 187 terrorists and so forth, I think that's highly irresponsible, because to my reading that's not what they are at all," he said.
In the past week this row has done more than divide opinion. The fall-out has been huge with threats of resignation, the launching of three different inquiries and a political blame game about who knew what and when.
The letters may be all about the past - but their content is dominating the present.
You can see the View on BBC One at 22:35 GMT on Thursday.