Sexual Orientation Strategy consultation to begin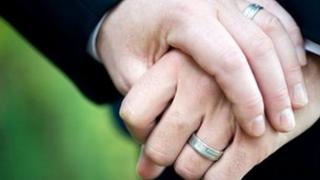 A public consultation on a long-delayed strategy to underpin the rights of gay people is set to begin next week.
The 12-week consultation carried out by the Office of First and Deputy First Minister will assist in designing a draft strategy.
However, critics say the Sexual Orientation Strategy itself was promised at least a year ago.
It is designed to promote equality of opportunity for the lesbian, gay, bisexual, and transgender community.
It was consulted upon in 2006 during direct rule and a commitment to deliver the strategy was included in the 2007 devolved programme for government.
Since then, a series of promises around delivery have been missed, including a pledge by DUP junior minister Jonathan Bell in June 2012 that the strategy would be published with full consultation by the end of 2012.
Ulster Unionist leader Mike Nesbitt welcomed the fact a consultation on a draft strategy was now starting, but regretted the delay.
"This is not consulting on the strategy document, this is a pre-consultation phase, it will last 12 weeks, it will inevitably lead to protracted analysis," he said.
"So I fear we won't see the strategy itself until 2015 potentially. That tells you, I think, that there are significant differences between the first minister and deputy first minister."
Last December, a majority of MLAs backed an Alliance motion calling for the strategy to be published as a priority.