NICVA says NI public more interested in economy than politics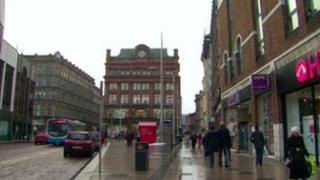 People in NI pay more attention to economic than political issues, according to research commissioned by a charity.
Northern Ireland Council for Voluntary Action (NICVA) said the findings suggested 40% of people show interest in the political landscape and 51% in the economy.
On devolving more taxation powers, 43% were in favour, 25% against.
The research was carried out by Ipsos MORI.
They interviewed a sample of just under 1,000 adults.
It also found that more people (68%) said economic policies were important when it came to casting their votes compared to constitutional issues (56%).
Seamus McAleavey, chief executive at NICVA, said: "We can see that people here are interested in 'bread and butter' issues; how much money they have in their pocket, how their taxes are being spent and what the local parties are doing to develop sound economic policies."
The research also found that trust in local parties to promote good economic policy was 39%, with 79% of respondents most likely to trust voluntary and community groups, followed by 55% in the business sector.
Despite the lower percentage of trust in Northern Ireland politicians to manage economic matters, respondents did believe that devolution had a positive impact, with 54% agreeing and only 15% disagreeing.
Of the big five executive parties, the SDLP was most trusted on the economy, getting a positive response from 36% of those surveyed.
That was followed by Alliance on 31%, then the DUP on 29% followed by the Ulster Unionists on 26%.
Sinn Féin were the least trusted of the main parties on 21%.
The majority of people surveyed felt that their political views did not fall into the traditional left or right spectrum, with just 14% describing themselves as 'left' and 11% 'right'.
Similarly, respondents did not tend to categorise political parties in terms of 'left' or 'right' politics.