Aloysius Hackett murder trial: Son convicted of manslaughter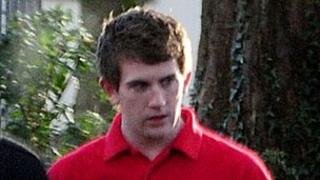 A County Tyrone teenager has been cleared of murdering his father but convicted of his manslaughter on grounds of diminished responsibility.
Sean Hackett, 19, was accused of murdering his father, Aloysius, 60, at their family home in Augher in 2013.
On Thursday, a jury at Dungannon Crown Court reached a unanimous verdict after two and a half hours of deliberation.
Hackett was also convicted on two charges of having a gun and ammunition with intent to endanger life.
The former Gaelic Athletic Association (GAA) footballer had always admitted killing his father, whom he shot twice in the head, in the driveway of their Aghindarrah Road family home in Augher, on 4 January last year.
But he had denied murdering his father, who was a former chairman of St Macartan's GAA in Augher.
Hackett showed no emotion as the verdict was read out. He was remanded in custody and will be sentenced next month.
By their verdict the jury, of six women and six men, accepted the defence case that Hackett, was a mentally disturbed, deluded teenager on the possible verge of schizophrenia when he killed the father he professed to have loved.
By the same token they rejected the prosecution case that he was not suffering from a recognised mental disorder.
Earlier, Mr Justice Stephens had told the jury that while people may act abnormally, it did not mean they suffered from an abnormality of mental functioning.
However, he added: "We know people do the most dreadful things without abnormal mental functioning.
"All killings are abhorrent. All killings are truly horrific. All killings arise from some thought process...but...that does not mean it is an abnormality of mental functioning".
The trial was described as one of the most extraordinary and complex criminal cases ever to come before the courts.