Tassagh: Smith brothers jailed for double manslaughter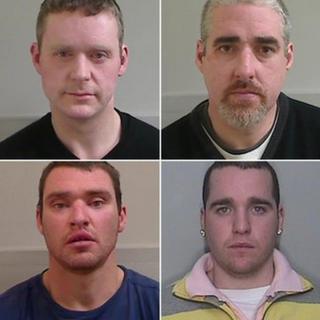 Four brothers have been jailed for up to 11 years each for killing a couple in a fire at the remote cottage they shared in County Armagh.
Niall, Martin, Christopher and Stephen Smith killed Thomas O'Hare and Lisa McClatchey at the couple's home near Tassagh, in 2006.
Niall Smith was jailed for 10 years, his three brothers 11 years each.
Niall Smith's sentence was reduced because he had effectively pleaded guilty to manslaughter.
In December, they were convicted of manslaughter but cleared of murder.
Mr O'Hare and Ms McClatchey died of the injuries they suffered in the fire at the house. The four brothers were also badly burned.
The brothers had admitted breaking into the house, beating Mr O'Hare and pouring petrol around the property.
The trial had been told Mr O'Hare had sexually abused one of the brothers years before.
The brothers had claimed their intention had been to burn the house in a bid to force Mr O'Hare from the area.
The Smith brothers had also been found not guilty of arson, but guilty of attempted arson.
The judge said that while he accepted Stephen Smith had suffered as a result of the abuse he endured by Mr O'Hare, there was "absolutely no excuse" for the brothers to do what they did.
He said: "To resort to this sort of conduct will lead to unforeseen consequences, and here we have these unforeseen consequences brought home to the offenders."
He said that after hatching a plan, the Smith brothers embarked on a joint venture and that "each had different roles to play."
He said that he held each man equally responsible.
The judge also spoke of the impact the deaths of the two victims have had on their families.
He said: "The families of Mr O'Hare and Ms McClatchey value their privacy and do not wish their grief to be aired in public, but what is clear is that both families are distraught by the deaths and by the circumstances of the deaths."