Aloysius Hackett murder trial: Jury hears closing submissions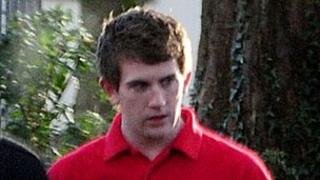 A teenager accused of murdering his father has been described as dangerous and "brutally selfish" by a barrister who summed up the prosecution case.
Sean Hackett, 19, denies murdering his father Aloysius at their family home in Augher, County Tyrone, in January 2013.
He admitted killing his father, but his defence team said it was "a very clear case of diminished responsibility".
Mr Hackett's barrister said a manslaughter verdict would be the "right, just and proper thing to do".
He said the central question was how a teenager of impeccable character, with everything in the world to live for, came to develop bizarre notions that killing one of his parents would help him to cope with his problems in life.
The teenager shot his father shortly after breaking up with his girlfriend and throughout the trial the jury heard expert testimony about the state of Sean Hackett's mental health.
But the prosecution said the break-up of a relationship was no excuse for murder.
'Wicked'
In his summing up, a prosecution barrister described Sean Hackett as "brutally selfish" in killing his father in order to get over whatever upset he had in his life.
He said it gave the accused feelings of control and excitement and he had shown little empathy for his victim.
The barrister told the jury that although the teenager was a gifted Gaelic footballer and a good sportsman with a good life given to him by a good family, Sean Hackett was a dangerous man.
Beneath his smiling face was a "wicked, planning, manipulative killer", the lawyer said.
'Silence'
He added that the one voice they had not heard in the courtroom to tell them his thoughts and feelings was Sean Hackett himself.
In a case that "cries out for him to get into the witness box and explain to you what he did, silence is what he has given you," the barrister told the jury.
The teenager had described the killing to police as an "incident", but the prosecution lawyer said "it wasn't an incident, it was the slaughter of his father, planned and executed meticulously by him".
The prosecution barrister said there was no evidence that the accused was suffering from mild depression and that his alleged mental condition had an impact on his understanding, rational judgement or ability to demonstrate self control, that would provide a defence to the murder charge.
'Horrific'
He said Sean Hackett feeling a bit down following the break up with his girlfriend was not an excuse for murdering someone.
But Mr Hackett's defence barrister said that not once during the trial had the prosecution suggested any motive for murder.
He told the jury not to be blinded by expert evidence and asked them: "Do you really need to be a psychiatrist to know that something in this young man's head was badly wrong?"
He said it was not in dispute that the manner of Mr Hackett's death was simply horrific, and that his son, being in the dock charged with his murder, was perhaps the "ultimate tragedy".
He added that Sean Hackett's attempt to strangle his mother 10 weeks before the shooting was a "dreadful spine-chilling incident" that was "every mother's worst possible nightmare".
'Abnormality'
But the defence lawyer said this incident was "the window that sheds light on this whole case".
"We say it shows beyond all doubt that he was suffering from deluded thinking and abnormality of mental functioning," he said.
He said manslaughter was not a soft option and was not an attempt to avoid Sean Hackett's responsibility for the death of his father, but that his responsibility was diminished by his mental state at the time of the killing.
"We say that to convict of murder on the evidence that we have heard, first of all it wouldn't remedy any injustice to the deceased, Mr Hackett," the lawyer said.
"Instead it would simply create another injustice and that is the conviction of this young man for murder in circumstances where his mental state simply would not merit that as a proper verdict. "