Bill Clinton soaks up political limelight in Londonderry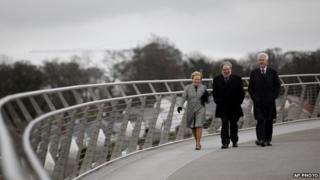 Much excitement in Londonderry as Bill Clinton takes a stroll across the Peace Bridge and heads to the Guildhall Square to address the public.
But if the European Commission President Jose Manuel Barroso, who is also visiting Ireland, walked the same walk, you can't imagine it generating anything like the same buzz.
That seems a little unfair. Okay, President Clinton did play a key role in helping to broker the peace the bridge commemorates. But it was Europe, not the USA, that shelled out the £14m it cost to build the bridge.
Of course, some of the discrepancy in the receptions accorded to the two politicians is down to their individual characters.
Celebrity friends
EU figures like Barroso tend to come across as faceless eurocrats while Bill Clinton is associated with the likes of Bono, Kevin Spacey, and whoever the National Enquirer includes in its latest edition.
However, the contrast also highlights the different roles the USA and Europe play as the leading outside influences on our political process.
Next week, US Vice-President Joe Biden will do his best to try to accentuate the positives in our current difficulties. Over Christmas and New Year it was his fellow Americans Richard Haass and Meghan O'Sullivan who battled unsuccessfully to bring the Stormont parties together.
One reason Dr Haass and Prof O'Sullivan could not deliver was that they had neither a big stick to wave or a succulent carrot to dangle in front of our negotiators. In an alternative universe, one could envisage a European representative having more tools in his or her diplomatic locker. After all, we are still receiving EU Peace Money, albeit not on the same scale as in previous years.
EU snub
However, the long bureaucratic process of approving European funding means it is not feasible to use it as a lever or incentive in negotiations. Plus the fact that both the UK and Ireland are EU member states make it impossible for the EU foreign affairs representative Catherine Ashton to make the kind of interventions in Northern Ireland that she has in relation to places like Iran, Egypt or Somalia.
So when local politicians effectively snub the EU - as happened over the stalled Maze Peace Centre - Eurocrats like the EU Regional Commissioner Johannes Hahn, who officially opened Derry's Peace Bridge, have little choice but to maintain a dignified silence and look around for where else to direct their funding.
The EU may be the big political issue at the other end of Europe, in Ukraine. But here in Northern Ireland it remains regarded mainly as a source of funding for farmers, peace projects and community groups, while Bill Clinton and his successors in Washington DC continue to soak up the political limelight.