Belfast Harbour faces opposition to City Quays development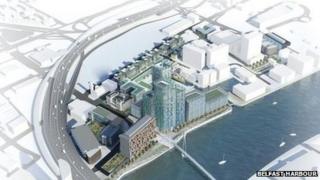 The government agency that protects historic buildings is continuing to object to a high-rise development at Belfast docks.
Belfast Harbour wants to develop a 20-acre site around Clarendon Dock, known as City Quays.
It submitted a new planning application in January, reducing the number of storeys from 30 to 16.
However, the Historic Buildings Unit (HBU) told planners the buildings are still too high.
Belfast Harbour's new application featured smaller buildings, which would reduce the development's original floor space by more than 56,000 sq m.
The HBU, which is part of the NI Environment Agency said, in a consultation response, that the development would "adversely affect the setting" of nearby historic listed buildings, the Harbour Commissioners Office and Sinclair Seaman's Church.
'Regeneration'
The response adds that it needs further information about the precise height of the buildings, their finishes and street level frontages before it can "fully assess the application".
The HBU is a statutory consultee, but does not have the power to veto a development.
A spokesperson for Belfast Harbour said: "Belfast Harbour has submitted an outline planning application to progress the wider City Quays development.
"As part of the process, one of the statutory consultees has recommended that additional information be sought to support the application.
"The Harbour will continue to liaise with Planning NI to address these matters and progress the ongoing regeneration of Belfast's waterfront."
Belfast Harbour has already received planning approval for one building on the City Quays site.
It is a five-storey office block known as CQ1, and building work has already started.
It has lodged a further application for a nine-storey block, known as CQ2.
The HBU has also said that development would adversely affect the setting of the listed buildings and has asked for more information.