Conor Lewsley still unconscious after north Belfast attack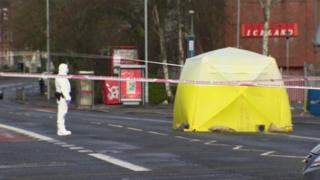 A man who was punched and stamped on in an assault in Belfast over a week ago has still not regained consciousness, the High Court has heard.
Conor Lewsley was allegedly hit 16 times in a matter of seconds.
The 24-year-old underwent surgery to relieve swelling on his brain following the north Belfast attack early on 23 February.
Ben Cullinan, 23, who faces a charge of attempting to murder Mr Lewsley, was refused bail.
A prosecution lawyer said that medical staff have not yet been able to fully assess Mr Lewsley's injuries.
She said: "The damage that has been done cannot really be estimated until he comes to and they can see what effect it has had."
The attack happened on the Antrim Road.
Mr Cullinan, of Glenville Park, Newtownabbey, County Antrim, is further accused of assaulting another man in the same incident, cultivating cannabis and possessing Class B drugs with intent to supply.
The court heard that just before the attack Mr Lewsley and three friends had called at the Antrim Road home of Seamus McGranaghan, a 31-year-old facing assault and drugs charges from the same incident.
They left when Mr Cullinan answered the door in his boxer shorts and told them Mr McGranaghan was in bed, according to the prosecution.
'Stamped on head'
It was claimed that within minutes the two accused followed the group and launched their attack.
CCTV footage allegedly shows Mr Cullinan forcing Mr Lewsley to the ground.
The prosecution lawyer said: "He [Cullinan] then climbed on top of him and punched him continuously. It was counted that he punched him 16 times.
"He then got up on his feet and stamped on the head of Conor Lewsley with force."
By the time police arrived paramedics were already treating the semi-conscious victim, the court was told.
Follow-up inquiries led to the discovery of 16 cannabis plants in Mr McGranaghan's flat.
Opposing bail, prosecution counsel claimed there was a potential to interfere with witnesses in the case, including Mr Lewsley.
Prima facie case
She added: "He has yet to give his witness statement, if he's ever in a position to do so."
A defence lawyer acknowledged a prima facie case has been established against his client.
But he argued that Mr Cullinan must still be presumed innocent and should be granted bail.
The court heard how the accused works for his father as a stage rigger at conferences and major arena events north and south of the border.
The judge accepted Mr Cullinan has a stable working background.
But he also said: "There's clearly prima facie evidence that he was involved in what can only be described as an horrendous attack which involved multiple blows being delivered to the injured party both with fist and foot."
Refusing bail, he added: "There's also the question of a risk of interference with the eyewitnesses and the fact the injured party has not yet regained consciousness."