Bangor theatre: Construction begins on Tuesday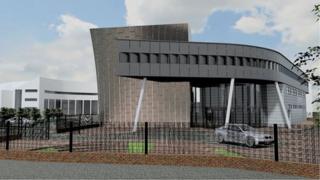 Construction work on a new performing arts training centre in County Down is to begin later.
The Department of Employment and Learning (DEL) is spending £12m to turn the car park at the South Eastern Regional College (SERC), Bangor into a state-of-the-art facility.
It will provide courses in creativity and will offer technical and engineering training.
The centre is being built opposite the SERC campus on Castle Park Road.
It will feature a theatre and rehearsal studios, along with teaching facilities for students to learn about technology.
Plans for the facility were shelved in 2010. However, last year DEL minister Stephen Farry secured the necessary funding.
Earlier this year the Department of the Environment began an investigation into the development after planning concerns were raised by Bangor residents.
The Planning NI website states that planning permission for the theatre was granted in 2008 and expired on 23 October 2013.
However, the Department of Employment and Learning said that permission was still valid and said they would continue with the work.
The centre is expected to be completed next year.