Michael Porter jailed for 16 years for attempted murders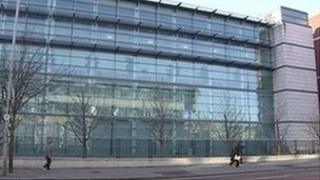 A taxi driver who drove a car into a crowd of people standing outside an east Belfast pub has been sentenced to 16 years in prison.
Michael Porter, 34, of Glen Court, Newtownards, County Down, attempted to murder Paul Thompson and Daniel Martin on 19 December, 2011.
He was also found guilty of causing Christopher McKay grievous bodily injury by dangerous driving.
Porter denies being the driver of the car.
The car was driven into a crowd outside the Great Eastern pub in east Belfast.
Sentencing him, Judge Corinne Philpott said: "You took a car and you used it as a weapon and it is just as lethal as a knife or gun, with the added advantage that you were able to get away."
After he has served eight years of his sentence, the parole board will rule on whether to release him. After he is freed, he will spend a further two years on licence.
Judge Philpott also told the court that the fact that Porter had a job and a stable relationship at the time made his crime "all the more offensive".
She said he had shown no remorse for his actions.
"If you don't show that you have changed, you will remain in custody for 16 years, and you will be 50 then," she told him.
'Like skittles'
During a week-long trial at Belfast Crown Court, the jury was told Porter, his brother and his friend Paul Thompson - one of the men who was seriously injured in the incident - had been drinking in a city centre bar before Porter drove them to the Great Eastern Bar in east Belfast in his ex-partner's Passat.
Porter parked the car on Hornby Street, which was right beside the bar.
During their time in the pub, the trio felt they were being stared at and after words were exchanged with local drinkers, they left.
Mr Thompson was assaulted and knocked unconscious in the street and moments later the car, which was driven to the area by Porter, was seen to exit Hornby Street and drive right into a crowd standing outside the pub.
One eyewitness told the court the car "knocked people over like skittles".
The car did a U-turn and drove at speed down the road, hitting the unconscious Mr Thompson as he lay on the road, and the prone body of Mr Martin who lay injured after being struck by the Passat as it exited Hornby Street.
Both men were seriously injured and suffered multiple fractures.
Mr McKay also sustained injuries when the car drove into the crowd.
Porter denied that he was the driver, saying that when he saw his friend being attacked outside the pub, he fled the scene and stayed at a friend's house.
His version of events was rejected by the jury, who found him guilty of attempting to murder two men and grievously injuring a third.
Defence counsel said it was a "dreadful pity" that Porter found himself in the dock of the court, adding "the root of his problems in this case" appeared to be linked to alcohol.