Aloysius Hackett murder trial: Son 'knew killing was abhorrent'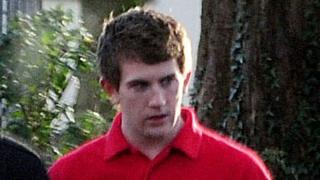 A County Tyrone teenager knew that killing his father was an abhorrent act that was morally and legally wrong, Dungannon Crown Court has heard.
Sean Hackett, 19, is on trial for the murder of his 60-year-old father Aloysius at the family home in Augher in January last year.
He has admitted the killing but denies murder.
The jury heard that he clearly understood what he was doing and was acting rationally and logically.
But consultant forensic psychologist Dr Philip Pollock, for the defence, said Mr Hackett was suffering from mild depression that led him to form the irrational belief that killing one of his parents would provide a solution and distraction to his problems, and they would become his guardian in heaven.
Consultant forensic psychiatrist Dr Fred Browne, expert witness for the prosecution, told the jury that Mr Hackett did not display symptoms of depression.
Tyrone GAA (Gaelic Athletic Association) manager Mickey Harte described the teenager as a very talented Gaelic footballer.
'Lovely gentleman'
He said he was one of the best players of his age group who had skill, talent and ability.
He told the court he had his eye on him as a future Tyrone senior player, and had no reason to doubt he would have played at the top level.
Mr Harte had accompanied the defendant when he was granted compassionate bail to attend his father's funeral, and told the court he had visited Mr Hackett three times at Hydebank Young Offenders Centre.
"I found a very quiet, unassuming, lovely gentleman," said Mr Harte.
He said he was the opposite of cold and uncaring, and in his opinion he was very warm and caring.
But the court was told that in the months before the killing Mr Hackett had lost interest in GAA and faked injuries to avoid training, as he said it would have been too hard to leave altogether and lead to too many questions.
He told Dr Browne that the most disturbing thing that had happened to him was breaking up with his girlfriend.
He also found exams stressful and he had drifted away from his friends.
But he did not include killing his father or attempting to strangle his mother in this list of disturbing events.