Nipsa: Privatisation 'hurting Northern Ireland health care'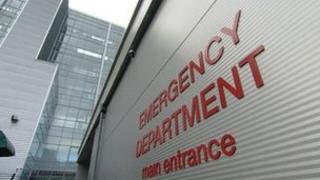 The crisis in Northern Ireland's healthcare system is down to the increasing role of privatisation, the trade union Nipsa has said.
Recent problems in A&E departments and the threatened closure of care homes for the elderly have been flagged up in the research by the union.
It said the Transforming Your Care initiative is undermining the NHS.
The union also said its members were determined to oppose privatising the health service.
Nipsa general secretary Brian Campfield said: "Our research argues that behind the rhetoric of Transforming Your Care is its default position of undermining the NHS by withdrawing from key areas of public sector provision, subsidising private medical provision's control of waiting lists and failing to support with appropriate funding and staff a universally available public health system.
"In 2013, a majority in the assembly voted to oppose privatisation in the National Health Service.
"Our 46,000 members are determined to hold all politicians to account on this issue and defend this jewel in the crown of the welfare state."