John Downey 'welcome home dance' cancelled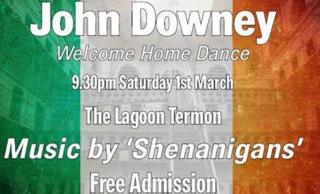 A planned homecoming celebration for a man who police suspect was involved in the 1982 Hyde Park bomb has been cancelled.
John Downey has always denied killing four soldiers in the IRA attack.
The case against him collapsed when it emerged he was one of 187 people who received letters assuring them they did not face arrest and prosecution for IRA crimes.
His supporters had planned a "welcome home dance" in a County Donegal pub.
Mr Downey said he would never try to insult or add to the hurt of anyone who had been bereaved.
In a statement, released on Saturday, he said: "Some elements of the media are portraying the event planned for tonight as triumphalist and insulting to bereaved families. That was never what it was about.
"I would never try to insult or add to the hurt of anybody who is bereaved as I am only too aware of their pain as there are many bereaved families also in the republican community.
"I refuse to allow what was planned as a simple get-together of family, friends and neighbours who supported me throughout my wrongful arrest and imprisonment in England to welcome me home and allow me to thank them, to be misrepresented and turned into a media circus.
"For this reason I have decided to cancel the homecoming get-together planned for tonight and I know that my friends and neighbours will understand."
The event had been condemned by both the Ulster Unionist Party (UUP) and the Traditional Unionist Voice (TUV).
Mr Downey, 62, who was convicted of IRA membership in the 1970s, had denied murdering the soldiers and conspiring to cause an explosion.
The case against him collapsed after it was revealed during private hearings that Mr Downey was one of 187 Irish republicans who had received letters of assurance from the British authorities that they did not face prosecution.
The letters were an attempt to resolve the long-running issue of On the Runs, escaped prisoners or those who feared arrest for paramilitary crimes committed in the UK before the Good Friday peace agreement of 1998.
Northern Ireland's First Minister Peter Robinson had threatened to resign over the revelations unless the government set up a judicial inquiry into the On the Runs scheme.
On Thursday, Mr Robinson confirmed he would stay in his post after Prime Minister David Cameron appointed a judge to lead a review of the scheme.
The judge is expected to complete a report by the end of May.