On the Runs: Shaun Woodward denied pardons report in 2010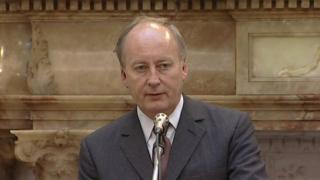 A former Northern Ireland secretary of state once denied a claim that Irish republicans were getting pardons in a bid to deal with so-called On the Runs.
In 2010, the then Labour minister Shaun Woodward said the idea of pardons was "complete nonsense".
He was responding to a newspaper report that said 47 paramilitary suspects had been told they could return to the UK without fear of prosecution.
The report was published in the Sunday Tribune in March 2010.
Royal pardons
When asked about the newspaper's claims on BBC Radio Ulster's Inside Politics programme, Mr Woodward said the article was "entirely misleading" and "full of inaccuracies".
`"I think when people see the facts, they'll see that the idea of pardons being given is complete nonsense and therefore it's wholly misleading for people", he said.
It emerged earlier this week that 13 royal pardons had been issued to On the Runs between 2000 and 2002.
On the Runs was the term used to describe people who had either escaped from prisons during the Troubles in Northern Ireland, or who were suspected of paramilitary crimes but never charged or convicted.
Meanwhile, a prominent County Tyrone republican who applied to be included in the On the Runs scheme was later arrested and jailed for the attempted murder of a soldier.
Gerry McGeough's name was put forward for the scheme by Sinn Féin's Gerry Kelly in 2000, almost 20 years after an IRA gun attack in which the soldier, Sammy Brush, was shot and badly injured.
Mr Brush, a part time Ulster Defence Regiment (UDR) soldier, managed to fire back and wound Mr McGeough when he was attacked in Aughnacloy, County Tyrone, in June 1981.
'Assurance'
Mr McGeough, who in 2000 was being considered as a Sinn Féin election candidate, appeared to assume from the conversation with Mr Kelly that he would not be arrested over the gun attack.
But seven years later, Mr McGeough was detained by police and sent for trial on a charge of attempted murder.
He took a legal challenge to try and have the case against him stopped, claiming he had an assurance that he would not be arrested.
In the course of the court action, Mr McGeough was shown a letter sent by the Northern Ireland Office to Mr Kelly in 2003.
It stated that having done the "necessary checks", were Mr McGeough to return to Northern Ireland, he would be liable to arrest.
'Animosity'
Mr McGeough told the court he had not been informed about the letter.
When asked why Mr Kelly would not have told him about it, Mr McGeough said that by 2003 he had left Sinn Féin due to "animosity" and he and Mr Kelly were no longer speaking to one another.
Mr McGeough's legal application to have the case thrown out failed.
He was later convicted of the attempted murder of Sammy Brush, who is now a Democratic Unionist Party (DUP) politician.
Mr McGeough was sentenced to 20 years in prison in 2011 but he served two, as per the terms of the Good Friday Agreement early release scheme.