Queen's University, Belfast: Professor Patrick Johnston's 'powerhouse' ambition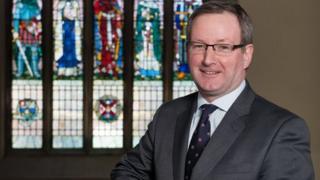 The new president and vice-chancellor at Queen's University, Belfast, has said he wants to make the university "an international powerhouse".
Prof Patrick Johnston takes up his new roles on Monday.
Previously he was dean of the School of Medicine, Dentistry and Biomedical Sciences at QUB.
He said: "Queen's is one of the finest universities in the UK and Ireland, and I am both honoured and privileged to be leading it."
Prof Johnston, who is recognised as one of the world's top cancer researchers, is the 12th vice-chancellor in the university's history.
He added: "Together we are about to embark upon a journey in which it is my goal for Queen's to become an international powerhouse in higher education.
"This will not only create significant benefits for Queen's but for every single citizen in Northern Ireland.
'Common good'
"This journey will not be easy, but it is one that I am fully committed to, and by working alongside our exceptional staff and students and with the support of our stakeholders, we will achieve our objectives.
"Queen's is Northern Ireland's university. It is a university that is open and accessible to everyone. It is a university which contributes to every part of our society: economically, culturally, politically and socially.
"And it is a university that consistently delivers a world-class education and research experience.
"Let's work together for the common good of everyone in our society."
Prof Johnston is from Londonderry and is married with four grown-up sons.
Since 2007, he has led the development of a new international medical school at Queen's and a world-leading Institute of Health Sciences.
He is also former director of the Centre for Cancer Research and Cell Biology at Queen's.