Former Anglo Irish Bank loans sold in liquidation process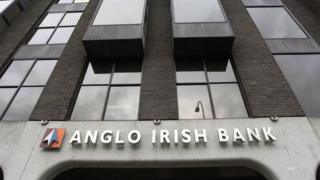 Loans made by the former Anglo Irish Bank in Northern Ireland have been sold as part of its liquidation process.
Anglo was a major property lender in Northern Ireland during the property boom but the bank was nationalised by the Dublin government in 2009.
Many of its loans were later moved into the Irish "bad bank", the National Asset Management Agency (Nama).
Some loans were retained by Anglo, later renamed IBRC, and it is those which have been sold.
They were part of a portfolio called Project Rock which was made up of around 800 loans.
Most of the loans have been bought by Lone Star, the US-based investment fund.
A small number are reported to have been sold to a US consortium headed by Sankaty Advisors and Canyon Capital.
Borrowings
It is not clear who has bought the Northern Ireland loans, nor is there is there a comprehensive list of all loans being sold.
However last year, Prentice Estates, based in Portadown, County Armagh, confirmed that its loans were part of the sales process.
Prentice Estates' most recent account states that it had £45m of borrowings with IBRC and that the liquidators of the bank "are in the process of divesting themselves of their loan book".
The property news service, CoStar Finance, has also reported that loans which were formerly related to the businessman Barney Eastwood were also part of the sales process.
IBRC placed much of Mr Eastwood's property portfolio into administration in 2012.
It included the Tower Centre in Ballymena, County Antrim, and retail units in Belfast city centre.
Developers
IBRC also held a large loan relating to the Odyssey complex in Belfast, though it is not clear if it was part of the sales process.
Loan sales have become a common way for banks to deal with their property problems.
The former Bank of Scotland Ireland (BoSI) has sold many of its loans it made to Northern Ireland developers.
Meanwhile, Nama has also begun a process which could lead to the sale of its entire Northern loan book in a deal which could be worth up to £1bn.