Simon Hamilton: NI still very good opportunity for investors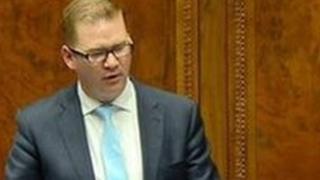 Finance Minister Simon Hamilton has said NI still presents "a very good opportunity" to foreign investors, despite current political uncertainty.
He was speaking at an event hosting the European Investment Bank.
He said a £150m loan towards the University of Ulster's new Belfast campus was a "vote of confidence in Northern Ireland".
On the fall-out from the John Downey case, he said: "We still have an economy and a government to run."
He added: "Of course we want to see political stability in Northern Ireland because that is how we grow our economy.
"But what has happened over the past couple of days is of such shocking magnitude that it does require the sort of attention it is getting.
"The first minister has made his anger clear.
"The government know what is required (in terms of an inquiry) and it is up to them to step up to the plate."