On the Runs: Jonathan Powell says crisis based on misunderstanding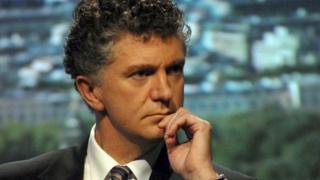 Tony Blair's former chief of staff has said a political crisis in Northern Ireland is based on a misunderstanding.
Jonathan Powell said the argument over letters to escaped paramilitary prisoners and others concerned they faced arrest is "misplaced".
NI's deputy first minister has also said all parties were aware of a scheme informing people they were no longer wanted by the police.
Martin McGuinness said "information about this was in the political arena".
He added that it was "to a certain extent in the public domain".
Mr Powell told BBC Radio 4's World At One: "We'd tried legislation, we tried amnesties, we tried all sorts of things and we couldn't get them agreed.
"The letters were something quite different, they were an administrative scheme to make clear to people that they were not wanted, that they were not being sought by the police forces so they could come back - they were a factual thing, not part of a political negotiation.
"So the whole basis of this argument is actually completely misplaced."
"I don't see why a letter to someone telling them they are not wanted for a crime is something relevant for anyone to know apart the police and the people they are writing to," said Mr Powell.
"Again we are missing the point between an agreement on On the Runs which was very public - we were negotiating about it and failed to reach agreement on it - and factual letters saying you are not wanted.
'Difficult compromises'
"Agreements aren't a la carte. You can't suddenly not like that part of the agreement - I'm only going to have the bits that I like.
"You reach an agreement and they are very difficult these sort of agreements and both parties have to swallow things they really don't want to do and would rather not.
"Releasing murderers as part of the Good Friday agreement after only two years in prison was an extraordinarily difficult thing for the government to do and an extraordinarily difficult thing for particularly the unionist community in Northern Ireland to swallow - but you have to have these difficult compromises of you are going to an agreement - you can't just say it's all going to be for one side"
He was speaking as the crisis around power-sharing deepened.
It has also been revealed that 13 Royal Prerogatives of Mercy were granted under the On the Runs scheme between 2000 and 2002.
Among the 13 was James McArdle, the man responsible for the 1996 London Docklands bombing that killed two people.
First Minister Peter Robinson has threatened to resign over more than 180 secret letters sent to republican suspects.
Speaking after a meeting with Secretary of State Theresa Villiers, Mr McGuinness said: "It has been shown, particularly over the last 24 hours, that this is a matter that has been discussed on a number of occasions at the Policing Board.
"All the political parties knew it and I think that the contribution to the Policing Board meeting in 2010 from Assistant Chief Constable Drew Harris is very revealing in terms of the amount of knowledge people knew.
'No amnesty'
"Drew Harris outlined the fact that there was a scheme. Yes, we all accept that there was no mention of a letter but I actually think that that is a superfluous point.
"Everybody at that meeting knew that there was a scheme and that over a period of years that scheme was being proceeded with."
Minutes of a NI Policing Board meeting in April 2010 indicate that members were briefed on the matter of On the Runs. Three members of the DUP were present at that meeting.
However, there was no mention of any letters being sent to On the Runs in that briefing.
Mr McGuinness also denied that the process of issuing letters to republicans who were on the run amounted to an amnesty.
He said no charges could be brought in the majority of cases involved.
He added: "A very important part about this issue is that those names that were put forward, those people were told no charges could be proceeded with or brought against them.
"There were also another smaller number of names that people were told that charges would be proceeded with if they returned to the north.
Resignation threat
"So that information blows out of the water this argument of amnesty or immunity or get out of jail card."
Ms Villiers is facing an ultimatum from Mr Robinson to address his concerns about letters.
The DUP leader had made his resignation threat after the trial of Donegal man John Downey collapsed.
Mr Downey denied killing four soldiers in the 1982 IRA Hyde Park bombing.
Mr Robinson said he was not prepared to remain as first minister in a power-sharing government "kept in the dark" about the letters to republican paramilitary suspects.
'On-the-run' letters
187 letters
sent to Republican suspects
0 letters
sent to Loyalist suspects
38 letters sent by current government since 2010

149 sent by previous Labour Government

Last letter sent in 2012
PA
The first minister met the secretary of state for about an hour on Wednesday night, following his resignation threat. Mr Robinson has asked for the assembly to be recalled on Friday.
Mr Robinson has called for letters to those On the Run, which give assurances to the suspects that they are not being sought by police, to be rescinded. He has also called for a judicial inquiry.
Democratic Unionist Party (DUP) sources said he is prepared to resign and call an election if necessary.
He gave the government until Thursday night to respond to the crisis.
He intends to make a statement to the assembly on Friday but what he says will depend on how the government deals with the issue.
On Thursday, Deputy Prime Minister Nick Clegg said more open discussions should have been held with Northern Ireland's first minister over the letters.
Speaking on BBC Breakfast Mr Clegg said: "With the benefit of hindsight, a much more open discussion with Peter Robinson should have been held at an earlier stage."
He said the coalition had inherited the system established by the previous government.
Mr Clegg said the government knew about the system but responsibility for the way in which it was administered was devolved.
DUP Enterprise Minister Arlene Foster said: "We need to see a public inquiry to find out who knew what, when and why it happened, and how it happened, despite the fact we were given assurances that there wouldn't be any amnesties, that there wouldn't be any legislation brought to deal with On the Runs.
"We are in a crisis, we need to sort this issue out. People on the ground feel very let down and feel that their government has deceived Peter Robinson and the rest of us in government here in Northern Ireland."
The case against Mr Downey collapsed because he was mistakenly told in a letter in 2007 that he was no longer a wanted man, despite the fact that police in Northern Ireland knew he was still being sought by Scotland Yard.