Businessmen's 'tentative plans' to bid for Sean Quinn's former firms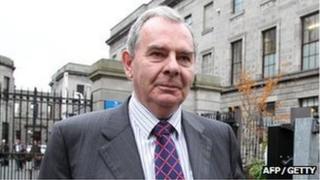 A group of businessmen have revealed tentative plans to mount a bid for the manufacturing businesses formerly owned by Sean Quinn.
Those businesses include radiator, glass and cement manufacturing and trade under the Aventas brand.
The group includes Fermanagh industrialist Ernie Fisher, Maghera-based John Bosco O'Hagan and Fine Gael county councillor John McCartin.
Aventas is likely to be worth several hundred million pounds.
The businessmen have set up a Northern Ireland-registered firm, Quinn Business Retention Company Ltd.
Mr McCartin told the Anglo-Celt newspaper that they had "a number of funding options available".
Aventas is currently controlled by a consortium of financial institutions.
'No discussions'
In a statement, Aventas said it "notes today's press article" and confirmed that it has recently received a "highly preliminary" indication of interest from the men.
Aventas said it had requested further information from Mr McCartin "in order to gain comfort on the deliverability of such a proposal".
The firm said it "will not enter into discussions with any interested party until such time as this minimum level of information is provided".
It has not received that information and added that "for the avoidance of doubt, no discussions are currently ongoing in this regard".
The Aventas businesses were the backbone of Sean Quinn's empire - he lost control of them in 2011 as part of his battle with Anglo Irish Bank.
Aventas remains a major employer in the border counties of Fermanagh and Cavan.
Mr McCartin said the men had "a number of funding options" available to them and had the backing of the former Quinn management team.
He added that there was "a big appetite" to invest in the business.
He said that they would need more details from Aventas about the current financial state of the business before they could put a value on any deal.