Aloysius Hackett murder trial: Son 'tried to kill mother'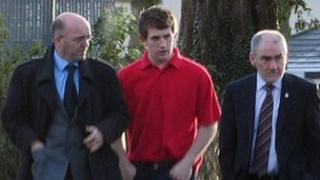 A County Tyrone teenager who shot dead his father had previously attempted to throttle his mother, a court has heard.
Sean Hackett, 19, is charged with the murder of Aloysius Hackett, 60, outside the family home in Aghindarragh Road in Augher in January last year.
The 19-year-old admits that he intended to kill his father, but denies murder.
His mother Eilis told the court two months before it happened, he had thrown a cord around her neck after breaking up with his girlfriend.
Mrs Hackett told Dungannon Crown Court her son was "someone she was very proud of".
She said he "never gave us any bother" until October 2012 when she noticed he had become withdrawn.
She said she was in the garage with her son examining a leaking tumble dryer when he began sobbing and told her he had split up with his girlfriend.
Mrs Hackett said she told her son not to worry as he was still a young man and would find someone else.
She said he replied: "I don't want anybody else."
She added: "I was turning to go out of the garage when I felt a lead being thrown over my neck.
"I ran out of the garage door and Sean was saying 'I didn't mean it, I didn't mean it'. I said to him: 'You did mean to do it. What's going on?'
"He said that he wanted me to go to heaven to look after him and granda."
The sobbing mother said that her son's grandfather had died some time before and Sean Hackett was very close to him.
"I told him: 'I don't want to go to heaven. I want to stay here with you."
"He said: 'I hope you will always be very proud of me'. I said that I would always be proud of him."
The jury heard that Mrs Hackett took her son into the family home where his sister Aileen was sitting in the living room.
"He told Aileen all of what he had done. Aileen kept talking to him."
'Seriously wrong'
Asked by a defence barrister if she believed her son had lured her into the garage in an attempt to kill her, she said: "Yes. He said that I could look after him better there with granda. He was extremely close to his granda."
When asked if she could explain what had happened, she said: "There is no reason at all as to why he would want to kill me.
"I thought there was something seriously wrong. We were very concerned. We didn't know what we were dealing with."
She said her husband made an appointment the following day with their family GP, who said her son did not need any medication but recommended that he see a counsellor in Omagh.
She said she and her son later drove separately to the appointment, where he spent around an hour and a half with the counsellor.
'Almost like brothers'
Mrs Hackett said that following the incident in the garage, she had found her son had changed and would increasingly spend more time out of the house.
"He would keep himself to himself and started to go out and play pool.
"He would be very snappy at times and very vague in his answers." she added.
Mrs Hackett told the jury that her son and husband, who was known as Wishie, were "almost like brothers" and that he and his father had been going to football matches since Sean was the age of three.
On the evening her husband was killed, she said everything had been normal in the house and she had left for a GAA function in Omagh.
She said she received a phone call to say "something dreadful" had happened at home, and she went to her neighbour's house where her son was talking to police officers in a bedroom.
She said she was told her son "wanted to speak to me in private" and the detective agreed.
"There was a single bed in the room and we lay down and hugged and cuddled each other. We were both crying," she said.
"I asked Sean did his father see him, and he said 'no'."
Mrs Hackett told the court that the day before the shooting, her son had told them he had received an invitation to play Gaelic football in the US in the summer.
She said that after his son was remanded in custody, he was granted compassionate High Court bail to attend his father's funeral while accompanied by his solicitor and Tyrone senior football manager Mickey Harte.
The court heard the family had been told that Sean Hackett had written a letter while on remand at Hydebank Young Offenders Centre in Belfast that he wanted to be read out at the funeral Mass in Augher.
However, Mrs Hackett said that it was decided that the letter would instead be read out during a graveside oration.
She then read the letter to the jury. It said: "To my special dad. This is just a few words I want to say to you as we send you to rest in heaven.
"Throughout my life you have been a gentleman, a role model, manager and an inspirational figure to me.
"All that I have done and achieved in my life I offer up to you. It is you I must thank.
"This is just a short note. He has been a great dad. I love him and I will miss him in my life."
Mrs Hackett said she tries to visit her son at least once a week at the young offenders centre.
"We were the perfect family. Sean loved his dad and vice versa. Wishie loved him."
A prosecution barrister asked her: "Have you ever ever asked him straight out the reason why he killed your husband?"
She replied: "No. I have not asked him."
Sean Hackett denies the murder charge and two others of possessing a firearm and ammunition with intent to endanger life.
The trial at Dungannon Crown Court is expected to last up to two weeks.