Northern Ireland 'has key marine energy role' says Greg Barker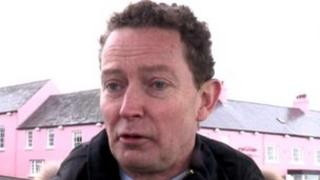 Northern Ireland is poised to play an important part in the future of UK marine energy, Energy and Climate Change Minister Greg Barker has said.
Mr Barker is in NI to discuss the potential for harnessing sea energy.
On Wednesday, a major conference is being held in Belfast to press the case for developing UK wave and tidal energy resources to their fullest potential.
On Tuesday, the minister visited Strangford to see the most advanced marine tidal turbine in UK waters.
"It's already connected to the grid and, although it's just a prototype, it's already powering around 1,500 homes here in Northern Ireland," he said.
"So I'm very keen to see it because I think this technology is scalable, it has the potential to be genuinely commercial.
"That's why the UK government is backing it and why I'm keen to see it."