Aloysius Hackett murder trial: Son claims he was depressed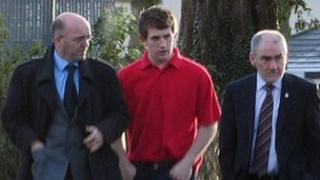 A County Tyrone teenager who shot dead his father told police that he had been seeking treatment for depression, a court has heard.
Sean Hackett is charged with the murder of Aloysius Hackett, 60, outside the family home in Aghindarragh Road in Augher in January last year.
The 19-year-old admits that he intended to kill his father, but denies murder.
After his arrest he submitted a prepared statement to the police.
It said: "I was involved in an incident that resulted in the death of my daddy whom I love very much. In recent months I have been suffering from depression and have been seeking medical treatment."
In court, his mother, Eilish, cried as details of the two gunshot wounds to the head that killed her husband were read out.
It is the prosecution case that the fatal wounds were inflicted by Sean Hackett, who loaded and reloaded a .22 calibre rifle he had borrowed from a friend.
The prosecuting barrister said: "He did what he did with the ability to load and reload the weapon despite the horror of what he must have seen after the first bullet was fired.
"Despite the horror of what he was doing to his own flesh and blood, his father, we say he is guilty of murder."
Later, a number of police officers gave evidence to the trial, saying that Sean Hackett had initially told them he believed his father may have disturbed a burglar.
He had described finding his father lying in the back yard and that his "body felt cold".
The officers described how Sean Hackett appeared upset and was shaking, and that they noticed blood on the knees of his trousers and blood spots on the car that he had been driving.
About six hours after the shooting, Det Insp Brian Foster said he was told that Sean Hackett wanted to speak to him.
He told the court that when he asked him why, the defendant replied: "I did it."
Ammunition
After he cautioned Mr Hackett, the detective said he asked him what had happened and he was told: "I shot him" and that the gun was in the car.
Under-cross examination, DI Foster confirmed that Sean Hackett had no previous convictions and that before taking him to the police station he allowed the defendant and his mother to speak in private together for five minutes.
A friend of Sean Hackett, Ronan Mulrine, has pleaded guilty to possessing a gun and ammunition in suspicious circumstances.
He loaned his father's rifle to Sean Hackett, who told him it was to be used to shoot rabbits.
Mr Hackett senior was a former chairman of St Macartan's GAA Club in Augher.
Sean Hackett denies the murder charge and two others of possessing a firearm and ammunition with intent to endanger life.
The trial at Dungannon Crown Court is expected to last up to two weeks.