Pressure sores: Weekend strain on NI emergency departments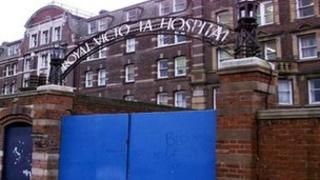 It is the morning after the weekend before.
Another Tuesday in Northern Ireland's health service when the emergency departments are in recovery mode.
Many local healthcare staff say that turning recovery areas into wards, battling breaches of the 12-hour waiting time target and calling in extra staff is becoming the norm rather than the exception at weekends,
On Monday, the Belfast Health Trust narrowly missed declaring another major incident at Belfast's Royal Victoria Hospital.
Or did they simply call it by another name?
On Wednesday 8 January, senior managers called in extra staff and opened more beds to deal with a spike in patients. This was declared a major incident.
Less than two months later on Monday 24 February, once again senior managers took the decision to call in extra staff and additional beds were opened. The latter, however, was called an "escalation plan". What is the difference?
The build-up began last Friday.
Again almost all of the health trusts were reporting that emergency departments were extremely busy. Perhaps, we should expect nothing different.
Critically, it appears that lessons were not learned from the previous times when there were too few staff, not enough beds and people were attending when they should not have been.
While we are told to refer to these areas now as emergency departments, it is difficult not to refer to them as A&Es, in other words, for anything and everything.
On Saturday and Sunday the pressure began to build. Beds could not be found and some staff members in the Belfast, Northern and Western health trusts said some patients were discharged prematurely because there were no beds.
The Northern Ireland Ambulance Service said it had taken 98 patients to the Royal Victoria Hospital on Sunday. That was more than on the two previous Sundays.
As the BBC revealed, on Monday, at about 17:00 GMT, 30 people had been waiting on trolleys some since 22:00 GMT on Sunday night. There were also more than 100 people in the waiting area.
By 21:00 GMT on Monday, that number had fallen to 15 patients waiting on trolleys.
In the Northern Trust, Antrim Area Hospital was under similar pressure. One source told the BBC that nursing staff were transferred from Holywell Hospital which deals with patients who have mental health problems. Nurses were left to cope there as best they could.
Extra beds were opened in what was once the old A&E area, now a GP assessment area. This forms part of the winter planning system.
According to staff, the GP assessment unit is working well and has helped remove some of the pressure from the emergency department.
In the Western Health Trust, the South West Acute Hospital experienced similar difficulties. On Monday morning about 20 patients were waiting to be allocated a bed, of those, five had breached the 12-hour waiting time.
Northern Ireland's waiting times are dire.
Last year, the College of Emergency Medicine said they were the worst in the UK.
In January, 71% of those who arrived at accident and emergency were seen within four hours. A total of 159 people waited more than 12 hours.
While the hospitals may be located in different areas, the problems are similar. Despite all the promises from Transforming Your Care (the road map for change in Northern Ireland's health care), very little has been delivered on the ground.
Rightly or wrongly, the public are still attending their emergency departments, partly because the service is not available in many of their local communities.
Added problems include the lack of a seven-day working culture in the health service and the fact that not enough day procedures are being performed in the community.
While statistics are used to illustrate what is happening, we should not forget that statistics, as boring as they are, represent people.