Belfast Festival at Queen's: Ulster Bank cuts funds by £200,000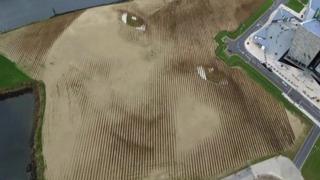 Ulster Bank has cut back drastically on its sponsorship of the Belfast Festival at Queen's, the BBC has learned.
Instead of its annual payment of more than £300,000, the bank will sponsor just a third of that.
Queen's University Belfast said talks with "key stakeholders on the future of the 2014 Festival" were ongoing.
"Queen's is confident that these will lead to a positive outcome, with a final decision expected in early March," a spokesman added.
In a statement, a spokesman for Ulster Bank said it had been a strong supporter of the Belfast Festival at Queen's for more than seven years and recognised the festival as an important part of Northern Ireland's cultural calendar.
"Our final package of support for the 2014-2015 festival has not yet been confirmed, but we look forward to working with Queen's and other stakeholders to build on the successes of the festival," he said.
Sean Kelly, director of the Cathedral Quarter Arts Festival, told BBC NI's Good Morning Ulster: "The days of major corporate sponsorship seem to be coming to an end."
Mr Kelly said smaller sponsorships would be available.
"Queen's Festival made its name on major acts, getting high-end theatre or opera," he said.
"They may need to rethink their artistic programme to some degree. It would be a shame that what it has built its reputation on might have to be diluted.
"Credit is due to Queen's for keeping the light alive during the Troubles."
Queen's festival celebrated its 50th anniversary in 2012.
It began as a small event on the university's campus and managed to keep going throughout the Troubles.
Previous festivals have included names as diverse as Jimi Hendrix, Billy Connolly, Kylie Minogue and Rowan Atkinson.