KPL: Arlene Foster in pledge over Dungiven firm jobs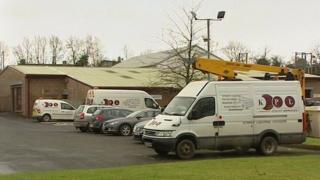 Enterprise Minister Arlene Foster has said the executive will do all it can to help workers who are losing their jobs at County Londonderry firm KPL.
KPL Contracts, based in Dungiven, carried out work for utility firms like BT, NIE and NI Water.
It was placed into administration on Friday, but less than 24 hours later the administrators said efforts to save the business had been unsuccessful.
More than 200 jobs are being lost at the company.
Speaking in the assembly on Monday, Mrs Foster said: "Certainly if there are companies looking for workers, they will find them with skills in abundance in relation to KPL and we, of course, will assist any companies that want to come forward to us.
"The question we're talking about today is in relation to those people who have found out they no longer have a job.
"We will do all that we can to support them, of course, to assist them to either find a job or indeed start their own business and we will do that through Invest NI."
The chair of the enterprise committee, Patsy McGlone, said he had met Regional Development Minister Danny Kennedy to try to ensure that work tendered to KPL was carried out and that sub-contractors were not left in the lurch.