Gerry Kelly suing over Police Land Rover incident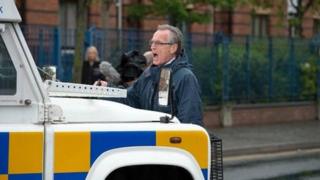 Sinn Féin's Gerry Kelly is taking legal action against the chief constable over an incident where he was carried on the bonnet of a police Land Rover.
The incident in Carrick Hill last June followed the loyalist Tour of the North parade in Belfast
Sinn Féin said: "Gerry Kelly, in common with any other citizen, is entitled to access the courts when he believes he has been wronged."
Mr Kelly is taking a civil case against Matt Baggott.
A police officer has accepted a formal reprimand for his part in the incident.
In January, the MLA received the same sanction for clinging to the vehicle while attempting to stop it.
A person refusing to accept the "informed warning" can be prosecuted.
The Police Federation said the officer's warning was "unjustified".