Northern Ireland jeweller Argento plans seven new stores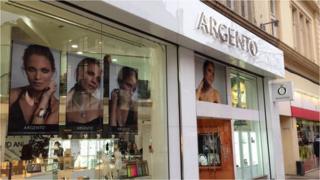 Argento, the Northern Ireland-based jewellery retailer, has announced plans to open seven new shops in 2014.
Four of the new outlets will be in Northern Ireland, with the other three in Scotland.
The expansion will give Argento, which was founded in 1997, almost 50 outlets and about 400 staff.
The company is one of NI's most successful home-grown retailers and its focus on "affordable luxury" has seen it prosper through the recession.
The firm's founder, Pete Boyle, said there would also be refurbishments for some of the chain's larger stores and an increased focus on online.
He added that the investment "provides us with an important opportunity to increase our brand presence and delivers on our commitment to assist in the revitalisation of the high street".