Dublin heart surgeons perform child operation in Belfast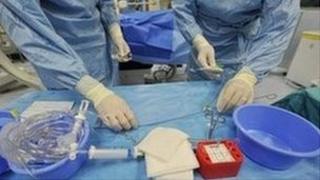 Dublin heart surgeons have operated on a child in Belfast under a temporary arrangement until a decision is reached on the future of the children's cardiac service.
In a statement to the assembly, the health minister said an international assessment was under way.
He said the team planned to visit Northern Ireland in the weeks ahead.
It will meet commissioners, clinicians and representatives of families whose children avail of the service.
The team is led by a Boston cardiovascular expert Dr John Mayer.
Health Minister Edwin Poots said the assessment team would describe the existing hospital services in both jurisdictions, outline options for service configuration and governance arrangements and report to both ministers jointly.
They will recommend the most appropriate model that would meet the population health needs and other requirements of both jurisdictions.
"I also advised the assembly that in the interim, pending the completion of the assessment in June 2014, health service management and clinicians in the Republic of Ireland would continue to work with their colleagues in Belfast to provide support to the services in Northern Ireland," Mr Poots said.
"The detailed arrangements for this support have been finalised and the first surgical session provided by surgeons from Dublin took place in Belfast on 17 February."
'Complex cases' transferred
Mr Poots also said that arrangements were in place to ensure that those children whose procedure is considered to be more complex will continue to be transferred to centres in England for surgery.
The minister said he wanted to record his thanks to Irish Health Minister James Reilly and the clinicians from Our Lady's Children's Hospital for their efforts in working with Health and Social Care in Northern Ireland to secure these short-term arrangements.
Last year, the minister said that children's heart surgery would transfer from the Royal Victoria Hospital to the Royal Belfast Hospital for Sick Children. However that may no longer be the case.
"While it would be ideal for children undergoing cardiac surgery to have their operation in a paediatric setting, this particular matter is complex and requires careful consideration of the potential consequences on other paediatric services and the implications for staffing," he said.
"The Belfast Trust is therefore carrying out a risk assessment of the proposed relocation and a decision will be taken shortly on the way forward in regard to this proposal."
In a written statement to update the assembly, Mr Poots admitted the service at the Royal Group of hospitals is "fragile" and faces major challenges.