Benone beach: Donegal man admits driving offences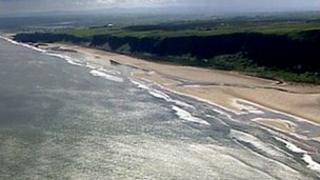 A Donegal man has admitted a number of driving offences at Benone beach in County Londonderry last summer.
A woman and her four-year-old daughter were hit by a car during the incident.
Paul John Doherty, 30, from Ballynahone in Fahan, pleaded guilty to dangerous driving at the beach and at the Seacoast Road in Limavady on 21 July, 2013.
He also replied guilty to driving with excess alcohol in his breath at the beach and in Limavady.
Doherty further replied guilty to charges of failing to stop at the scene of an injury accident at Benone beach, failing to report an injury accident to the PSNI and with failing to remain at the scene.
'Deep regret'
A defence barrister told a judge at Londonderry Crown Court that Doherty wished to express his deep regret for his actions.
He said Doherty would co-operate fully with the probation service in relation to the preparation of a pre-sentence report and had fully complied with his bail conditions since last July.
They involved Doherty travelling from his work in Edinburgh to sign once a fortnight at Strand Road PSNI station in Derry.
A Public Prosecution Service barrister told the court that Doherty had two relevant convictions for dangerous driving in the Republic of Ireland.
Doherty, who is not allowed to drive as part of his bail conditions, was released on continuing bail until he is sentenced for the offences on 31 March.