Cross-border penalty points plan 'pause' criticised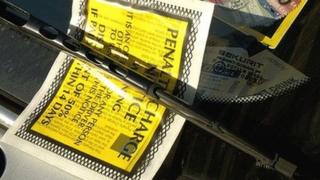 A motoring expert has criticised a decision to defer a cross-border penalty points system between Northern Ireland and the Republic of Ireland.
The Department of the Environment (DoE) said the plans had been "paused" because of "complex policy issues".
Conor Faughan of the Automobile Association said he was disappointed at the decision.
"We both have penalty point systems in both jurisdictions. I just don't buy the complexity of this," he said.
"They operate in more or less the same way. I do understand that it is quite a unique thing for the two jurisdictions to agree but I don't see any reason why we can't agree."
Mr Faughan, director of consumer affairs with AA Ireland, told BBC Radio Foyle: "There is a zone of recklessness along the border.
"Drivers in the Republic of Ireland behave with relative impunity in Northern Ireland because they can't be properly punished. And the same thing happens in reverse.
"If we can have a mutual recognition of each other's numeric systems then that would make a transformative difference to the behaviour of drivers right across the island.
Loophole
"I would love to be predicting different but unfortunately I think that this important measure will not happen anytime soon."
Currently, motorists from one jurisdiction who commit traffic offences in the other jurisdiction cannot have those endorsements enforced in their own area.
The governments in Dublin and Belfast wanted to introduce new laws next year to close that loophole.
Irish Transport Minister Leo Varadkar said there are legal matters that need to be addressed.
A DoE spokesperson said: "The mutual recognition of penalty points between Northern Ireland and Ireland is a challenging project for which there is no agreed international framework.
"Environment Minister Mark H Durkan has met with Leo Varadkar on a number of occasions, most recently in November 2013.
"At this meeting ministers agreed to pause the project to allow further investigations of complex policy issues, to enable the policy to be taken forward effectively.
"Mr Durkan firmly believes that, for the policy to be workable and effective, these further investigations are essential."